[mks_dropcap style="letter" size="48″ bg_color="#ffffff" txt_color="#000000″]T[/mks_dropcap]he feminist movement is booming in Mexico as women have united to protest against the government and its negligence towards gender-based violence. Fearing for your life as a woman in Mexico is no exaggeration as women are hated to death. Mexico has faced alarming femicide rates with a rise of 137% from 2018 to 2020, with an average of 10 murdered women each day, according to official statistics. Mexican feminists are preparing to make history by going on the country's first-ever all-women labor strike this Monday, March 9th of 2020.
Mexico has been the subject of tumultuous headlines in the past few years due to the gruesome and gory crimes that have taken place in a long battle against narcotrafficking and organized crime. However, the war on drugs and the surreal amount of power druglords have over the state are not the only problems in the Central-American country. Women live in fear because of the constant violence they face on an everyday basis, from street harassment to sexist comments at the workplace, rape, sex-trafficking, torture, and ultimately, femicide.
Mexican society praises female silence to the extent of having sayings alluding to women looking prettier when quiet
Most women in Mexico are born into the sexist rhetoric of machismo, which does not only shape women as caretakers but as the emotional pillars of their family and male partners. Likewise, machismo celebrates male entitlement and dominance over women despite their unhealthy codependency to them, being family members or romantic partners. Moreover, Mexican society praises female silence to the extent of having sayings alluding to women looking prettier when quiet.
Protests
Though it's difficult to pinpoint the exact causes of the soaring and seemingly never-ending gender-based crimes, Mexican women have risen to protest stronger than ever in the past and present year amid horrendous crimes. In August 2019, a 17-year-old was raped by four police agents who insisted on driving her home for her safety, then followed to take turns to rape her in their car. This case ignited one of many protests against national and local security bodies, including the police and the Security Minister in Mexico City, who was doused in purple glitter, which symbolizes the 'purple tide' of united feminists fighting against the government's negligence and machismo.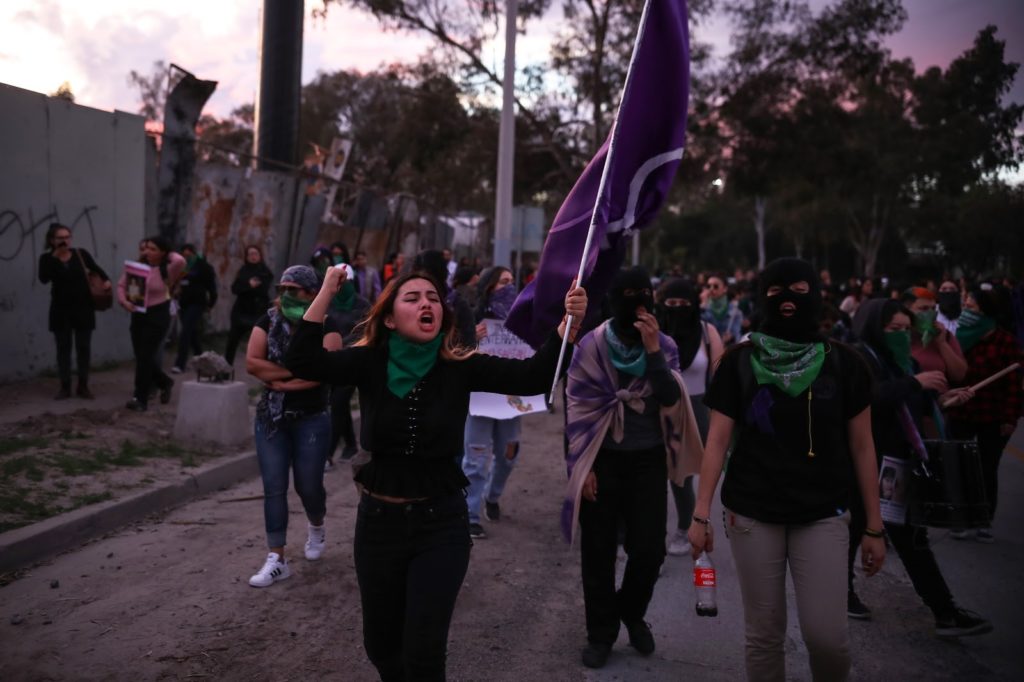 The police and government underestimated the extent to which these protests would escalate in all 32 states of the country. Protesters quickly began shattering glass at bus stops, the Secretary of Justice, and burning the central police station in Mexico City. Likewise, protestors began spraypainting the streets resulting in the city's most iconic monument, the Angel of Independence, being intervened. Mexico City's Mayor, Claudia Sheinbaum, responded by condemning the protesters saying she would take them seriously if they only protested peacefully. Her position led to public backlash, and she quickly changed her approach by meeting with women's groups and passing bills to prosecute perpetrators. 
Las Muertas de Juárez
Although the alarming rates of femicides in Mexico have only made it to international headlines recently, hundreds of women have been violently murdered on the northern side of the country since the '90s. The femicide epidemic in Ciudad Juárez turned the city into a necropolis ranking as the world's fifth most dangerous city in 2019. "Las Muertas de Juárez" ("The Dead Women of Juárez") have been subject to numerous investigations, and subsequently, protests led by Activist Isabel Cabanillas. She received a  gunshot to the head this January, resulting in her death.
Social Media as a Political Weapon
With such colossal territory and independent municipalities, how have women united themselves at the rise of this new feminist wave in Mexico? Through social media. Women in Latin America have shared their stories about sexual harassment, domestic violence, and their loved ones who died in the hands of aggressors on Twitter and Facebook. By sharing their stories, with #MiPrimerAcoso (#MyFirstHarassment) in 2016, thousands of women reported being harassed before even hitting puberty by bypassers on the street or someone they knew.
More recently, the hashtags of #NiUnaMenos (#NotOneLessWoman), #JusticiaParaIngrid (#JusticeForIngrid), and #IngridEscamilla have been some of the most used on signs and chanted at demonstrations. Ingrid Escamilla, 25, was brutally murdered, skinned and eviscerated by her partner whom she had previously reported to the police for domestic violence. A few days later, the hashtag #JusticiaParaFatima (#JusticeForFatima) emerged after seven-year-old Fatima was abducted and her naked body was found in a trash bag in Mexico City.
The blatant and transcendent misogyny that persists in Mexico is widespread in all societal and economic levels
The blatant and transcendent misogyny that persists in Mexico is widespread in all societal and economic levels. But women's groups are ready to take the streets and demand the government of President López Obrador to take action on such pressing circumstances for half of the population. 
A Simulated Disappearance for Human Rights
Building up to this moment for several years of unheard peaceful demonstrations, the hashtag #UnDiaSinNosotras (#ADayWithoutUs) created by women's groups, calls for all women to go on strike and simulate their disappearance on March 9th. The aim is to raise awareness by showing the impact that women have in the workforce, caretaking and the economy. Because of this, on Monday, all women in Mexico are being called to stay home without taking care of house chores, disconnect from social media, and not consume any goods and services.
Regardless of the public outcry, there have been individuals and politicians who have disqualified the feminist movement and the strike. The countdown to the demonstration for Women's day is a heated one amidst acid attack threats for which information has been disseminated on social media for protesters to be prepared by wearing goggles, leather work gloves, and covering their faces at the Women's day march on March 8th—followed by the national all-women labor strike on the 9th, which will mark a historic moment for women's rights in Mexico.
As a Mexican woman studying abroad, every time I read the news I can't seem to understand the surrealism of the country's values and collective trauma. As the gap between those who know victims and have suffered gender-based violence tightens, the thousands of alternative realities existing in Mexico overlap with one common enemy no one knows how to combat. This feminist wave is revolutionary and carries the weight of public discontent caused by corrupt and impune leaders that haven't addressed the fears of half of its population for decades. 
Photo credits: Emilio Espejel