The Audacity* with Mark & Shar is the latest Podcast launched in the last half of 2020. It is a podcast we did not know we needed—it dares to talk about sensitive topics such as sex and long-distance relationships that many do not even dare to talk about. I interviewed Mark and Shar before the start of their second season— which launched on February 14th, aka Valentine's Day.
Before we dive into the topic, could you please introduce yourself?
Shar: I'm Shar. I co-host The Audacity podcast with my best friend (Mark) and work full-time in marketing and communications. I'm originally from Nepal but have been living in Amsterdam for almost four years now.
Mark: I'm Mark. I co-host The Audacity with Shar. We both met doing our BSc in Communication Science at the UvA and are super glad to be featured in Medium. I'm originally from the US and am now doing my MSc at the UvA.
How did you come up with the idea of a podcast?
We talk about this in the first episode, actually…starting a podcast was something we've joked about since we've met. Especially as two communication students and cusp babies (people born in the transition from one zodiac sign to the next), it was the obvious option.
And, what made you actually launch it?
We finally got tired of only talking about it, so we decided to jump in. Next thing you know, we each bought mics and started having business meetings to figure out our brand and format. Ironically, neither of us were big podcast listeners, but that didn't stop us. We are also perfectionists, so we had to make sure, before launching, that we could create something that the audience would want to consume. So we dove in head first!
In Season One, you have discussed plenty of diverse topics (such as the presidential election, communications, and dating). However, one of my favorite episodes was the one about long-distance relationships. If I remember correctly, it was also your first guest episode. Listening to you and Mana made me really understand what it means to be in a long-distance relationship, and I could very much resonate with what you said. So, did you decide on a specific theme in Season Two?
We have a general range of themes we like to cover since our podcast is in the society and culture section. These topics somehow relate to communication, society, culture, life as expats, and dating, but we wanted the freedom to explore other themes as well. The general rule we try to follow is that our show is a conversation between two best friends—hopefully, one that you'd want to listen in on. For Season 1, we started introducing our topics, which we want to go more in-depth in Season 2. Without giving anything away, we can, at least, promise that the new episodes will cover some fan-favorite topics like sex and relationships, but also some issues we think are important to highlight, even if they aren't easy to.
Any tips for peers who would like to start something new, especially now?
Just go for it! We've had a blast working on this, and it's also been nice for our friendship. No matter the format or content you choose, if you're doing this with someone else, you have to be on the same wavelength. Our cardinal rule is that our friendship comes first, which is also why we've been able to grow so quickly and produce quality content because we genuinely enjoy each other's company?. Another tip would be to invest—both time and money—to help [with] your production value. For us, this meant figuring out efficient workflows and following production standards, which is why we get so much positive feedback on our audio quality and branding. Lastly, be consistent with your production. As communication students, we should all know firsthand the importance of consistency, branding, and media.
A final statement.
Do you have the audacity to check out Season 2, which launched on Valentine's Day? Then look no further as there are weekly episodes!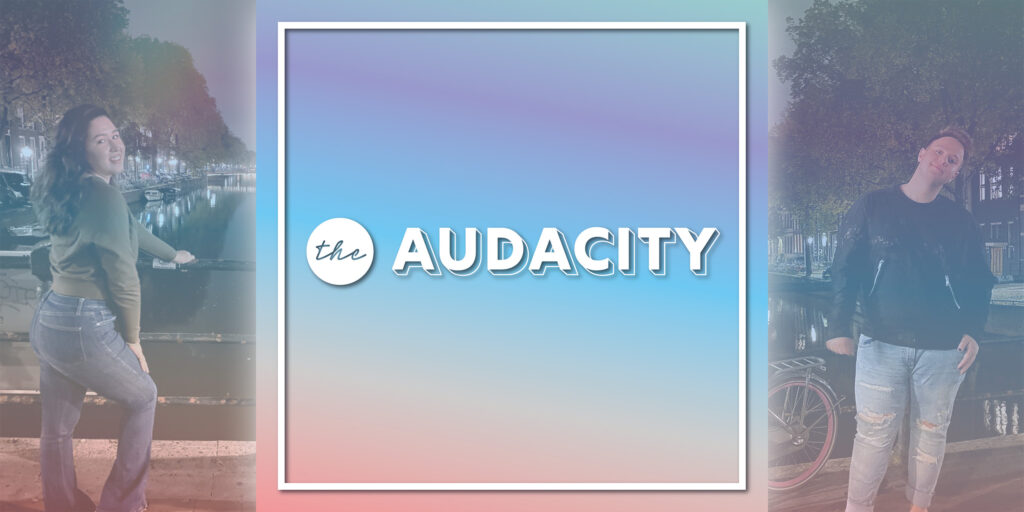 Thank you, Mark & Shar, for sharing your wisdom with us, and good luck with season two.
*The Audacity with Mark & Shar is a podcast about communication, society, culture, life as expats, dating, and much more! You can listen to all of Season 1, available now everywhere podcasts can be found. Also, check them out on social media @audacity.fm, where you can get in touch and follow updates about Season 2.
Cover: Karolina Grabowska