[mks_dropcap style="letter" size="48″ bg_color="#ffffff" txt_color="#000000″]R[/mks_dropcap]eclameborden zijn beschreven, bestickert en onder geplakt met maandverband. Heel seksistisch versus feministisch Nederland (feministische duiding vind u hier, hier en hier) ging los bij een anti-Suitsupplyreclameborden FB-event en de eigenaar van Suitsupply, Fokke de Jong, is zelfs naar eigen zeggen bedreigd. Narigheid alom, maar uiteindelijk staat Suitsupply als merk natuurlijk niet alleen in het promoten van hun producten door middel van een duidelijke scheiding en rolverdeling tussen man en vrouw. Laten we deze aanleiding dan ook aangrijpen om een kruispunt tussen sociologie en communicatiewetenschap te analyseren: gendermarketing.
Erving Goffman, een 'klassieke' socioloog, schreef al in 1976 over dit fenomeen. Goffman bouwde een brug tussen communicatiewetenschap en sociologie door marketing en maatschappelijke ongelijkheid te koppelen. Hij analyseerde vijfhonderd foto's en concludeerde op basis van deze advertenties dat vrouwen vaak zacht, gevoelig, kwetsbaar, machteloos, kinderlijk, ondergeschikt en dromerig werden geportretteerd. In tegenstelling tot de man: die werd als zelfverzekerd, comfortabel, duidelijk aanwezig en soms zelfs intimiderend neergezet. Goffman noemde dit de 'ritualisering van ondergeschiktheid' bij reclames. Wat hem het meest choqueerde na zijn eigen onderzoek: we zijn compleet gewend geraakt aan deze beelden (behalve misschien als het net te duidelijk wordt om te negeren, hè Fokke).
Mannelijkheid versus vrouwelijkheid
Zijn punt is niet dat vrouwen nooit zelfverzekerd of mannen nooit kwetsbaar getoond worden: maar wel dat eerder genoemde kenmerken op grote schaal in advertenties gekoppeld worden aan mannen en vrouwen. Goffman beargumenteert dat dit geen biologische grondslag heeft (want bijvoorbeeld homoseksuele mannen worden vaak ook op dezelfde manier als vrouwen afgebeeld), maar dat het toont hoe we als samenleving cultureel over vrouwelijkheid en mannelijkheid denken. Hij merkte verschillende terugkomende symbolen op in advertenties: de vrouw passief en man actief en initiatief nemend (function ranking), de infantilisering van vrouwen (dus het afbeelden als kinderlijk, bijvoorbeeld aan vinger sabbelend) en de man veelal groter/langer/breder afgebeeld dan de vrouw (relative size).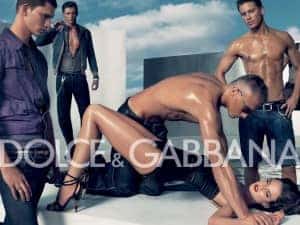 Prettige bevestiging van je wereldbeeld
Waarom is gendermarketing, ondanks de vaak duidelijke ongelijkheid, dan toch populair? Omdat het het wereldbeeld waarmee we opgegroeid zijn, inclusief scheiding en rolverdeling tussen man-vrouw, bevestigt. Die bevestiging voelt prettig en creëert daarmee ook economische motieven: merken kunnen zo differentiëren tussen producten, waardoor we uiteindelijk meer kopen. Vrouwen voelen zich 'automatisch' vaker aangetrokken tot bijvoorbeeld roze producten, mannen vaker tot producten met blauwe of donkere kleuren. Dezelfde producten voor mannen en vrouwen (denk aan scheermesjes, scheergel, crème, shampoo etc.) zijn zelfs vaak duurder voor vrouwen, ook wel The Pink Tax. Maar deze marketing wordt steeds meer onderwerp van kritiek omdat we mede door de herleving van de feministische beweging genderhokjes steeds meer loslaten. Een goede zaak.
Eigenaren bedreigen en reclameborden beschadigen is zeker niet de oplossing, maar de discussie doorzetten die Goffman in de jaren tachtig begon wel. Laten we op vredige manier de gendermarketing die deze bruggenbouwer aankaartte, blijven bekritiseren.
En dames — koop ook eens een mannenscheergel. Een middelvinger naar gendersprookjes én je portemonnee wordt er ook nog eens blij van. Die onuitstaanbare geur went, beloofd.
Dit artikel verscheen ook op Stellingdames.nl.