Naast mij zijn er vele anderen die Snapchat als toegevoegde waarde zien in het digitale leven. Als de hoorcollegedocent je iets vertelt wat je toch al lang wist, kun je met een knop op je smartphone een regenboog over je onderlip laten stromen. Verveelt je buurman zich ook? Dan gooi je die Face Swap-filter en is het leven weer een stukje aangenamer. Dit sociale medium is er echter niet enkel ter vermaak. Vele bedrijven zagen Snapchat al gauw als een marketinginstrument, maar moet elk willekeurig bedrijf dit wel willen?
Snapchat?
Even een beknopte uitleg voor hen die geen snars begrepen van het voorbeeld uit de inleiding: Snapchat is een app waarmee je foto's en filmpjes kunt versturen die een X aantal seconden te zien zijn voor degene aan wie jij een 'snap' stuurt. Je kunt je snap ook delen met al jouw Snapchatvrienden, door een foto of filmpje in 'mijn verhaal' te zetten. Dit is een soort timeline met alle verhalen van Snapchatgebruikers die jij volgt. Eigenlijk een vrij simpel concept. Deze app doet het vooral goed onder jongeren: 71 procent van de leeftijdsgroep twaalf tot en met negentien jaar en 28 procent van de Nederlanders die tussen de 20 en 29 jaar oud zijn, installeerden deze app. In totaal telde Nederland twee miljoen Snapchatters in 2015. Wat de app mede zo populair maakt, zijn de filters. Elke dag verschijnt er wel weer een nieuwe filter die de mooiste, grappigste of meest rare dingen met je gezicht doet. Zie onderstaande afbeelding waar de Face Swap-filter is gebruikt.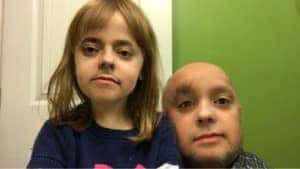 Van Top Notch tot het Witte Huis
De app biedt de mogelijkheid om unieke persoonlijke momenten vast te leggen, die erna direct kunnen worden waargenomen door volgers. Als volger neem je een kijkje in het leven van iemand anders, door het bekijken van onbewerkte videofragmenten of foto's. Hierdoor lijkt het 'echter' dan een YouTubefilmpje waarin de content is bewerkt. Volgers kunnen ook eenvoudig reageren via de 'Snapchat-chat', waardoor er interactie plaats kan vinden tussen het publiek en de 'Snapchatter' in kwestie. Onder beroemdheden is het zeer populair om momenten uit hun dagelijkse leven te delen en is het voor artiesten eigenlijk een tool om in contact te blijven met hun fanbase. Dj Khaled – de man op de cover – is een goed voorbeeld van iemand die al beroemd was, maar door de app zijn carrière een extra boost wist te geven en een Snapchaticoon is geworden. Zo was hij dus zelfs te gast bij The Ellen Show. Het Nederlandse muzieklabel Top Notch maakt tevens dagelijks creatief gebruik van Snapchat door bijvoorbeeld artiesten backstage aan het woord te laten voor een optreden of tijdens het schieten van een videoclip. Zelfs het Witte Huis gebruikt sinds begin dit jaar Snapchat om de kloof tussen politiek en burgers kleiner te maken.
Snapchat voor elk bedrijf?
Naast beroemdheden lijken steeds meer bedrijven gebruik te willen maken van dit sociale medium. De laatste tijd zijn er ontzettend veel artikelen geschreven over de kansen voor marketeers. Snapchat claimt zelf op de website dat hun app de beste manier is voor bedrijven om mensen tussen de 13 en 34 jaar oud te bereiken. Zou elk bestaand bedrijf dan gebruik moeten maken van Snapchat? Het antwoord is – volgens dit online verschenen artikel –  nee. Dit zou géén geschikte strategie zijn voor bedrijven die bekender willen worden via de app. Wat op zich logisch is, aangezien mensen iets of iemand pas kunnen volgen als zij die persoon of instantie hebben opgezocht en toegevoegd aan hun vriendenlijst. Toch is het niet onmogelijk. Er wordt namelijk een manier aangeboden om de bedrijfsbekendheid te vergroten. Zoals op onderstaande afbeelding te zien is, staat boven alle verhalen DISCOVER. Hieronder staan een aantal bedrijfsnamen, die je niet volgt maar dus kunt 'ontdekken'.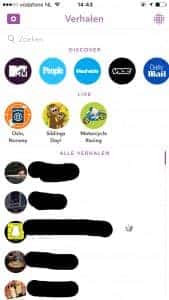 $700.000
Als een bedrijf zich onder de aandacht wil brengen bij een groter publiek, lijkt Snapchat niet de meest ideale optie te zijn. De kosten kunnen namelijk oplopen tot $700.000 per dag. Het bereik is daarentegen immens groot: per dag waren er wereldwijd meer dan honderd miljoen actieve gebruikers in 2015. Men moet dan nog wel het verhaal van je bedrijf willen bekijken, maar dat is een tweede. Er zijn nog twee strategieën die je als bedrijf kunt gebruiken: speciale (Snapchat)filters laten ontwikkelen of een externe gespecialiseerde partij inschakelen. Volgens dit artikel zal je met minder dan $50.000 ook niet ver komen bij deze twee strategieën.
Snapchat is dus interessant voor bedrijven die reeds bekend zijn. Voor artiesten en instanties is dit medium een uitkomst om nóg meer met hun achterban in contact te komen. Snapchat is echter minder interessant als je bedrijfsbekendheid minimaal is en je marketingbudget niet verder reikt dan een schamele ton.