Sommigen zien het als een hulpmiddel, anderen zien het als een grote manipulatie en verpaupering van onze maatschappij. Ik ben zo'n persoon van de laatste categorie. Toch kom ik er niet onderuit: de gesprekken met mijn vriendinnen gaan veel te vaak over Tinder, Happn en nu weer iets waanzinnig onzinnigs nieuws genaamd Ohello. De meldingen met jongensnamen op de smartphone houden niet op: wedstrijdroeiers, hockeyers, reizigers, alles komt voorbij. Ik voel me buitengesloten, omdat ik in mijn vrije tijd niet bezig ben met dates fiksen via social media. Nog steeds kijk ik aflevering na aflevering van Suits met de droom dat Harvey Specter ooit het beeld uit loopt en mij ten huwelijk vraagt. Daar komt nu verandering in; ik ga onderzoek doen naar datingapps.
Mijn onderzoeksvraag: uit welke datingapp krijg je de leukste, maar op minst seksbeluste date? Hoewel ik dus een ontzettende afkeer heb van dit soort apps , gaat het dan toch gebeuren. Ik ben immers 22 en weet stiekem ook wel dat mijn vriendinnen zich afvragen wanneer ik nou eens serieus op zoek ga naar een op zijn minst sportieve metgezel. Mijn telefoon is inmiddels voorzien van de drie populairste datingapps van het moment, namelijk Tinder, Happn en Ohello. Om de leken – zoals smartphone-dyslectische vijftigplussers- onder ons even in te lichten, hier een korte beschrijving van dit drietal.
Alleen wat foto's toevoegen, een leuk feitje over jezelf noteren en je oogt helemaal single en ready to mingle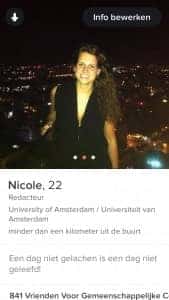 Tinder
Tinder werd in september 2012 aan de University of Southern California gelanceerd en is één van de oudste, maar nog steeds veel gebruikte datingapp. Via Tinder ontmoet je mensen net als in het echt, maar dan op je smartphone. Het enige wat je hoeft te doen, is je Facebookaccount aan deze app koppelen, wat foto's toevoegen en misschien een leuk feitje over jezelf noteren en je oogt helemaal single en ready to mingle! Op basis van je locatie worden er wat suggesties gedaan van Tindergebruikers in de buurt. Je beoordeelt de foto's met een vinkje of een kruisje. Mocht de desbetreffende persoon heel toevallig ook een vinkje aan jou hebben toebedeeld is de eerste match een feit. Nu kunnen jullie gezellig gaan chatten en kijken of de visuele klik toekomstperspectief biedt!
Happn
Je kent het wel: je zit in de tram, lekker weg te dromen en te staren naar de knappe, gespierde hardlopers die zich richting het Vondelpark bewegen. Hij staat stil bij het stoplicht, jij kijkt hem recht in de ogen aan vanuit het iets te vieze tramraampje en kunt alleen maar denken: als ik zijn naam toch wist. Kon je maar even stoppen, uitstappen en hem stiekem achtervolgen of op de één of andere manier traceren, denk je bij jezelf. Maar nu, eindelijk, na vele misgelopen toekomstkandidaten is er de oplossing, namelijk Happn! Met deze app kun je de personen vinden waarmee jij hetzelfde pad kruiste. Het enige wat nodig is, is beiden deze app installeren en klaar is Kees!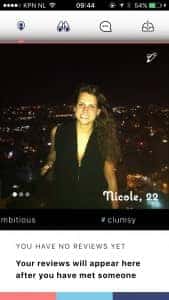 Ohello
Mocht je nou geen zin hebben in dat eeuwige gechat wat vooraf gaat aan een date zoals vaak bij Tinder en Happn het geval is: download het spiksplinternieuwe Ohello. Binnen 45 minuten kun jij iemand die dichtbij is ontmoeten. Verveel je je? Wil je snel face-to-face-interactie en to the point komen zonder al te lang in spanning te zitten? Deze app is dan ideaal. Bij Ohello is het niet de bedoeling om alleen foto's te bekijken en te chatten. Het is hierbij echt de bedoeling dat jij binnen no-time in de kroeg zit met een wildvreemde die toevallig in de buurt is.
Plan van aanpak
De aankomende drie maanden zal ik de mannen die deze drie apps mij opleveren eens even goed gaan analyseren en onder de loep nemen. Hoewel de norm per conditie in de studie Communicatiewetenschap op N=50 staat, zal ik mij beperken tot een N=10 per conditie, want ik heb – in tegenstelling tot sommige Tinder-,Happn- en Ohellogebruikers – ook nog een druk bezet studentenleven. Het aantal dates dat ik in totaal dus zal ondergaan zal dertig zijn: tien Tinder-, tien Happn- en tien Ohello-dates. Ik zal proberen allerlei soorten jongens random te liken, op engerds met heel veel tatoeages en mannen die in hun introductie al zonder enige schaamte om seks vragen na dan. Nu maar hopen dat er met drie dates per week wat jongens bij zitten die ook ochtendmensen zijn zoals ik en graag de dag beginnen met een kopje koffie in plaats van lugubere midnight meetings.
*Er is gekozen voor drie dezelfde profielfoto's om de interne validiteit van dit onderzoek zo goed mogelijk te waarborgen.
Cover: aliceabc0
Reacties
reacties