Have you ever stumbled upon an amazing drawing of a celebrity on social media and wondered who the artist is and why they made it in the first place? Join me to discover the phenomenon that is fan art and let me introduce you to five artists who dedicate their spare time to creating art based on celebrities and fictional characters.
Over the years I got sucked into many, many fandoms (One Direction and Harry Potter being just two of them) and each and every time I would find myself liking, screenshotting and commenting on the artworks other people had created for the particular TV show, band or actress that I enthused over at the time. Soon I began to draw celebrities too. But despite making fan art myself, I began to wonder how other artists' journeys went. Did they fall down a rabbit hole similar to mine? And why do they create fan art?
I made use of my own Instagram-bubble to talk to five artists whose works and accounts I dearly appreciate. But before we hear their voices on visual fan art, we'll browse through the basics!
History of Fan Art
Solely on Instagram you find over 37.5 million posts under #fanart, comprising traditional drawings, digital art, cosplay, and photography as well as handicraft work and video edits. However, people don't seem too interested on a broader scale. Where the Wikipedia article is short and lacks verification, Google Scholar seems to mock me for trying to find reliable sources. What does appear to be constant, however, is that fan art generally stems from a bunch of fans who are enthusiastic about the same pop-culture phenomenon or persona and who see themselves as a collective, a fandom.
In the 1930s, fans gathered and celebrated science fiction books and comics together for the first time. Around this time, cosplay and fan events must have originated. Simultaneously, it has always been common, especially among children and adolescents, to draw sketches of beloved characters and to show them to friends. Maybe you even remember such an occurrence yourself?
Writing fanfiction, yet another type of fan art (which to elaborate would go beyond the scope of this article) is another cornerstone of fan art. During the 1970s, the TV show Star Trek inspired fans to write stories about its characters Spock and Kirk which were then turned into illustrations by fans – some of them count for the first (homoerotic) fan art pieces to be known of.
Nowadays, it is possible to find a niche for your fandom on almost every social networking site.
Decades later, the internet made it possible to communicate virtually. A pioneer platform for user-made art is DeviantArt.com, where photography, traditional and digital (fan) art has been shared since 2000. Nowadays, it is possible to find a niche for your fandom on almost every social networking site, be it Facebook, TikTok, Twitter, Instagram, or Tumblr (which seems to survive off fan culture alone).
The Early Stages of Fan Art-ing
Now that we're all on the same page, let's get to the fun part! Who makes the art? And why? As someone who's been fangirling over more than a dozen fictional characters and celebrities for years, fan art is comfortingly normal to me, but I am sure there is more to discover!
The artists I asked for a chat each came from different European countries, but they have one thing in common: they found their homes in fandoms. Most of them started drawing aged 14 to 15, but didn't share their sketches online until they were older. Emma, the Danish artist behind @artbyemmax, remembers: "I started doing portraits of different celebrities […] to practice my drawing skills and when people then started recognizing who they were of, it meant that I had improved!" Her Instagram profile shows: the practice was more than worth it. One of Emma's favorite people to draw is Harry Styles, as his recent photo shootings are not only aesthetic, but challenging at the same time.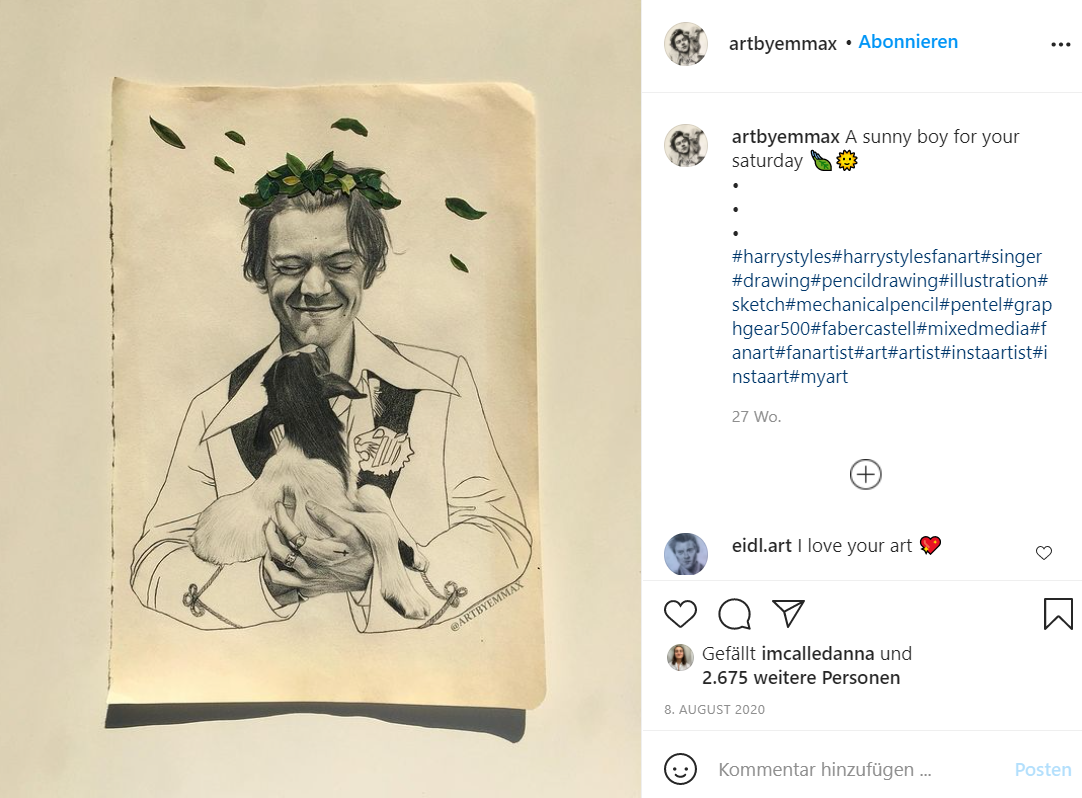 What's the Purpose?
Fandoms exist for one purpose: communication. The overarching reason why people with the same pop-cultural interests gather – online or in real life – is to share theories, ideas, and opinions about the media person or product they devote their time to. By creating fan art, you express yourself with your imagination and creativity both of which then turn into artwork. Silvia, the face behind @silviarucci.artcraft, worded it like this: "I want to pay homage to something that inspired me and left an emotion. Then also to share that emotion with those who have the same passions as me and hopefully to make them smile."
This brings me to the second reason: being a fan of something or someone is a highly emotional matter. To enjoy a book, movie, or a musician's work so much that you feel the urge to just speak, create, share your thoughts and feelings makes you vulnerable. "I was scared to share my work and to receive a bad response. But seeing him [actor Maxence Danet-Fauvel] embrace his dream and be so determined to follow it simply inspired me", Italian artist Silvia explains.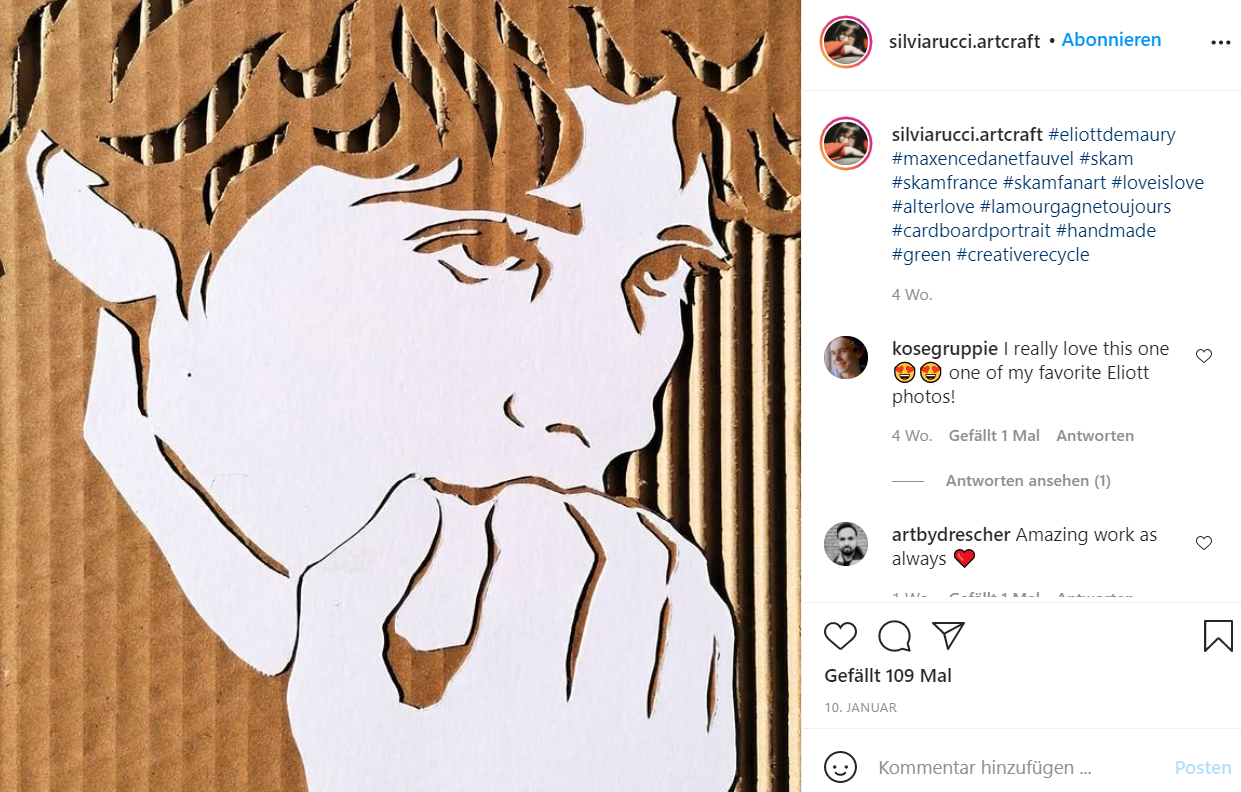 The Finnish girl who runs a popular Instagram account (@lokieeeed) dedicated to Marvel's Loki prefers to share her fan art in stories and highlights as well as on Twitter; a platform which the other artists did not report on using since they mainly stick to Instagram (the only exceptions being Redbubble and Etsy). But her motivations are similar: "Through fanart you often bond with other members of the same fandom. I love that feeling."
Laura, one half of @giantrookers, dedicates her account and drawings to German indie band Giant Rooks. She also shows that it's not only about communicating among fans, but to reach the musicians that amaze her. "The artworks I make are a way to communicate with the band since some of the members react to the posts from time to time."
The Sky's the Limit
There is no limit which tools or materials to use. Where Laura and Emma prefer traditional tools like pencils and ink pens, Ester's (@mollymoska and @surigustattoo) and Silvia's approaches are different. Silvia uses cardboard to recycle and revive old materials into art, meanwhile Ester works not only digitally with Photoshop and Illustrator, but found a passion in hand poking tattoos as well!
In the end it all comes down to inspiration. The very best thing about making fan art (and enjoying looking at it) is its limitlessness of possibilities. Every emotion, fan theory or press interview can be the starting point of a new work of fan art.
Cover: Sophie Kulla